Free Shipping for US orders over $50 | ordinary purchase, extraordinary purpose
Socks that Plant Trees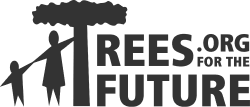 One pair = 10 trees planted
---
---
Boldly support a greener world with these grey and green socks with a tree embroidery. Each pair supports Trees for the Future and their work to plant trees for better soil and more successful farmers.
Made in India

75% Organic Cotton, 23% Polyamide, 2% Spandex

Fairtrade, GOTS, and Vegan Certified
Machine wash cold. Do not Bleach. Tumble dry Low. Do not Iron.
Terry padding for comfort.
Organic Cotton
Vegan
Fairtrade Certified
Sustainable

Liquid error: Argument error in tag 'include' - Illegal template name
Plant Trees
Forest gardens provide nutritious food that can be harvested throughout the year for both sustenance and income. This method of regenerative farming also significantly reduces the loss of wild land to agriculture. Conscious Step partner Trees for the Future educates and empowers families in developing countries, helping them reclaim land with plants and trees that will thrive in their backyards. The food those plantings produce improve their standard of living – feeding the earth, and its people.
Sustainability in Every Pair
Change is in our choices, and we've taken great care to keep our manufacturing simple and transparent. Our high quality, fairtrade socks are made from the cleanest cotton by empowered producers in communities we serve and support. That's a sock you can feel good about.
Learn More
Liquid error (sections/static-testimonials.liquid line 2): Argument error in tag 'include' - Illegal template name