Free Shipping for US orders over $50 | Every Pair Has a Purpose
Conscious Club: One pair delivered every month
---
Want to take a bigger step? Join the club! Buy to keep your sock drawer fresh, or give as a gift that keeps giving! Each pair supports a different cause and provides a different impact. Save 20% and get free shipping when you sign up for a subscription. Your new pair will ship on the first of every month straight to you or your loved one. We'll send you a mix of designs and causes from the always growing Conscious Step range. Pay for the first pair at the time of sign up, and a recurring charge will be processed to the same credit card on the first of every month. Subscriptions renew until cancelled. There is a three month subscription minimum before we allow cancellations. There is no refund available once a payment has been processed. 
*Free shipping in US only*
*Please note that the quantity is not the number of months, but the number of subscriptions(pairs)*
Sustainability in Every Pair
Change is in our choices, and we've taken great care to keep our manufacturing simple and transparent. Our high quality, fairtrade socks are made from the cleanest cotton by empowered producers in communities we serve and support. That's a sock you can feel good about.
Learn More
Clean, Organic Cotton
We source our cotton from India, where 80% of the world's supply is grown. Each pair is non-GMO, pesticide- and insecticide-free, and empowers independent farmers to keep it clean.
Choose Fair
Fairtrade, that is. Which means better working conditions in developing countries. You can rest-assured that Conscious Step promotes fair and ethical working conditions for all our producers.
Mindful Manufacturing
Conscious Step works to promote fair and transparent working conditions. No child labor; minimum wage compliance and paid overtime; everything our producers need to thrive at work and in their communities.
Customer Reviews
Write a Review
Ask a Question
Filter Reviews:
quality
causes
gifts
socks
company
customer service
world
designs
Conscious Step
pair
09/17/2020
George H.
United States
Great socks
I love the socks and the fact that they go to causes that I'm proud to support. Keep doing a great job.
09/09/2020
Deb C.
United States
Comfy and Cool
These socks are fantastic! Solid construction and very comfortable. Great designs! Looking forward to building my collection!!
09/01/2020
George H.
United States
I like the choice of socks August
I love the feeling of the socks in my hands since I cannot feel from my knees down and the look of the socks are perfect.
08/18/2020
Trang L.
United States
Stellar in comfort and sustainability
I love this sock subscription. I had lost 3 pairs of socks in 1 week to toe holes and decided it was time to get some eco-friendly socks to take their place. I am so happy that I committed to a subscription! These socks are so comfortable and feel sturdy. They don't feel like they will succumb to the fate of my other socks!! Thank you for these fun, charitable, and sustainable socks!! Makes my feet and my moral compass happy!!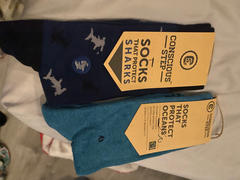 08/18/2020
Anonymous
United States
Awesome
I love my socks. The quality is great and I love that not only am I supporting different causes but they are vegan.