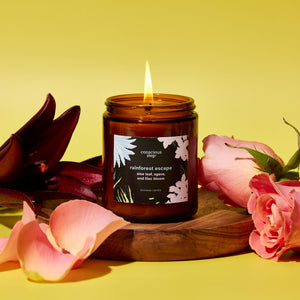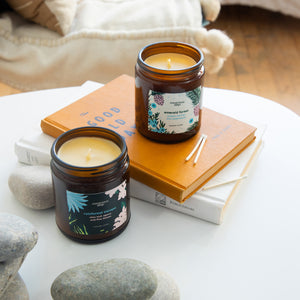 Lush tropical landscapes and crisp summer rains: we're at peace just thinking about them! Rainforest Escape carries hints of aloe and lilac blooms, with the fresh top notes of agave that make you feel as dewy and fresh as a tropical monstera.

• Handmade with locally harvested beeswax, coconut oil, and phthalate-free fragrance
• 9 oz. and about 60 hour burn time
• For best results, burn the candle to its edge on the first use and trim the wick to ¼ inch before each burn
• Place on a stable surface away from other flammable objects. Keep out of reach of children and pets and never leave lit candles unattended
• Made in Michigan
1% for the Planet: A global network donating at least 1% of annual sales to environmental solutions for a healthy planet.
Forests sequester carbon, support clean water systems, and provide 1.6 billion people globally with everything they need to prosper. Worth more than land and lumber, forests are vital for the health of our planet and global community. Conservation International empowers local communities around the world, working with them to keep forests standing and help them thrive. It's a win-win for people, wildlife, and the planet.

Each candle protects ten tropical rainforest trees.
Orders are processed within 1-4 business days and take 3-5 business days for shipping within the US. Typically east coast orders will take about 3 days to ship, while west coast orders may take up to 5 days.

International orders and orders to Hawaii and Alaska take 7-10 days for shipping.

Free returns for any unworn product that is still in its original packaging within 30 days of purchase. We want you to be happy with your purchase :)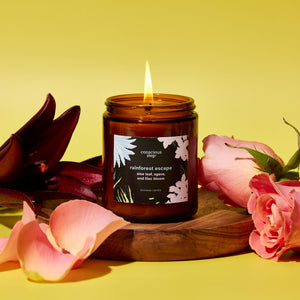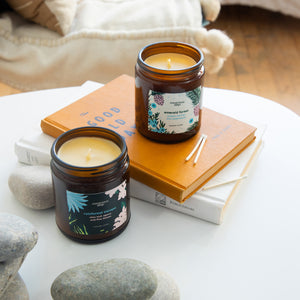 power and purpose in every purchase.
every purchase gives back to world changing nonprofits
sustainably sourced with the planet in mind
premium quality that feels better and lasts longer
hundreds of happy 5-star reviews (and counting)
your happiness guaranteed. we promise