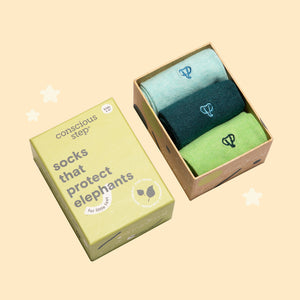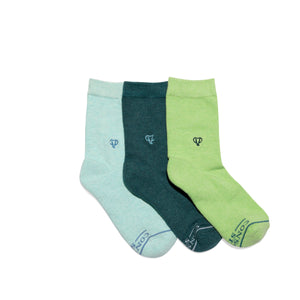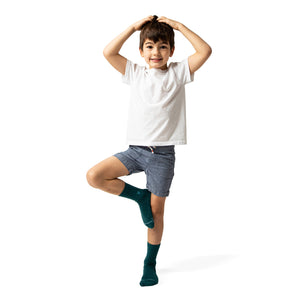 A must-have for kiddos who love elephants. This gift box includes pairs of blue melange, green melange, and turquoise melange socks celebrating gentle giants with an elephant embroidery.

• Fairtrade, GOTS, and Vegan Certified*
• Terry padding for comfort
• Machine wash cold. Do not Bleach. Tumble dry Low. Do not Iron.
• 75% Fairtrade Organic Cotton, 23% Recycled Polyester, 2% Elastane
• Made in India
• Size 1-3Y has silicone grippers for sliding

* The silicone grippers used for our toddler pairs exclude them from the GOTS and Vegan certifications.

Fairtrade Certified (T, P, Y): Produced in accordance with Fairtrade International's rigorous environmental, economic and social standards.

1% for the Planet (T, P, Y): A global network donating at least 1% of annual sales to environmental solutions for a healthy planet.

GOTS Certified Organic Cotton (P, Y): The worldwide ecological and social standard for organic fibers, free of herbicides, insecticides, and pesticides. We use the same cotton for our toddler pairs, but their grippers exclude them from this certification.

Vegan (P, Y): Guarantees a product uses no animal ingredients and is not being tested on animals. The grippers used on our toddler pair exclude them from this certification.


* T = toddler; P = preschool; Y = youth
Endangered animals like elephants, sloths, giraffes, and many others, are necessary components to support a complex ecosystem. Rapidly declining populations due to habitat loss and poaching not only deprive our planet of these amazing creatures, but also threaten the health of our world. Our partner, Conservation International, works to protect our planet's wildlife and their critical habitats in a variety of ways so that we can continue to admire these majestic creatures for generations to come.

Orders are processed within 1-4 business days and take 3-5 business days for shipping within the US. Typically east coast orders will take about 3 days to ship, while west coast orders may take up to 5 days.

International orders and orders to Hawaii and Alaska take 7-10 days for shipping.

Free returns for any unworn product that is still in its original packaging within 30 days of purchase. We want you to be happy with your purchase :)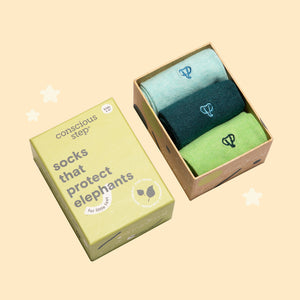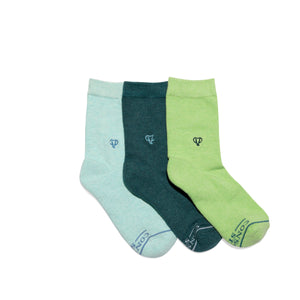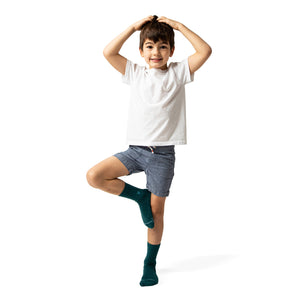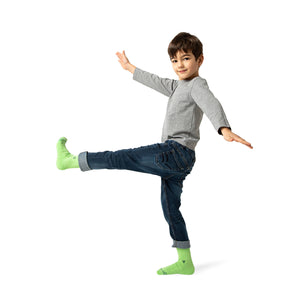 power and purpose in every purchase.
every purchase gives back to world changing nonprofits
sustainably sourced with the planet in mind
premium quality that feels better and lasts longer
hundreds of happy 5-star reviews (and counting)
your happiness guaranteed. we promise